Here you have a set of NinjaTrader ® tools, mainly addons, indicators, strategies, drawing tools,etc., to power up your daily work.
Aquí encontrarás una colección de herramientas para NinjaTrader ®, principalmente addons, indicadores, estrategias, herramientas de dibujo,etc, para potenciar tu trabajo diario.
INDICATORS
INDICATORES
COOMING SOON
PROXIMAMENTE
STRATEGIES
ESTRATEGIAS
COOMING SOON
PROXIMAMENTE
ADD-ONS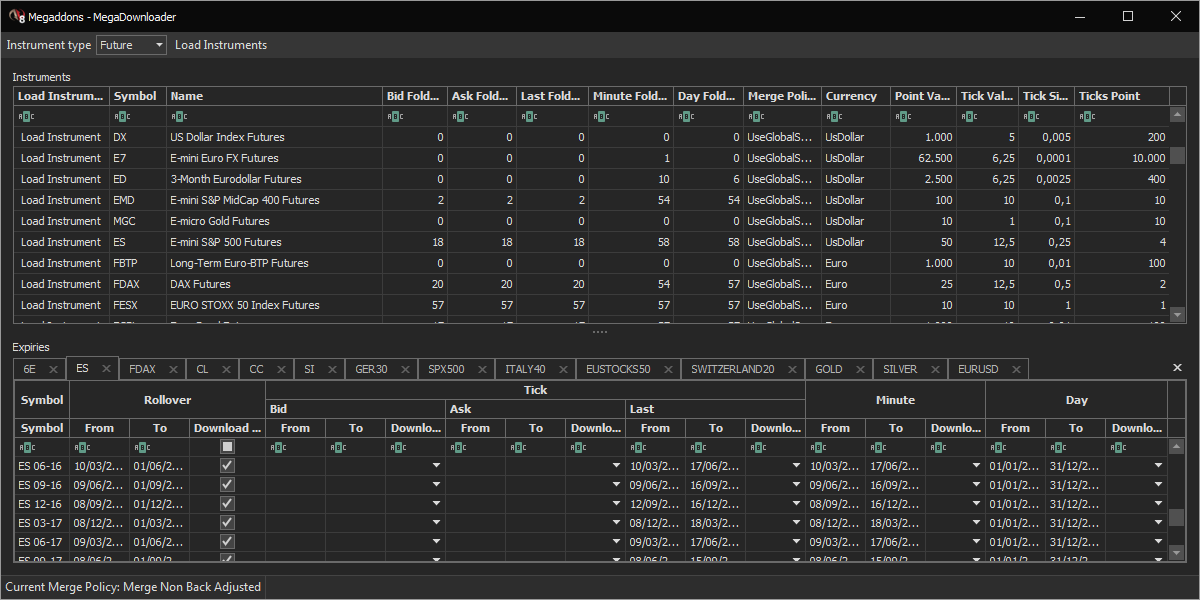 Mega Downloader
Historical data manager
Historical data manager
The MegaDownloader add-on allows you to download historical data asynchronously in a single window. Load instruments by type and view specifications and all available expiries for each instrument, including rollover period and date/time range for tick, minute and day-based periods. Con el add-on MegaDownloader se pueden descargar datos históricos de forma asíncrona en una venta única. Se pueden cargar los instrumentos por tipo, ver sus especificaciones y todos los vencimientos disponibles, con su 'rollover' y el rango de fechas para los periodos en ticks(bid/ask/last), minutos y dias.
Download
Descargar
Buy $ 49.95
Comprar 49.95 $
TOOLS
HERRAMIENTAS
COOMING SOON
PROXIMAMENTE